Visa awards Filipino with a once-in-a-lifetime experience to watch Olympic Winter Games PyeongChang 2018
01/17/2018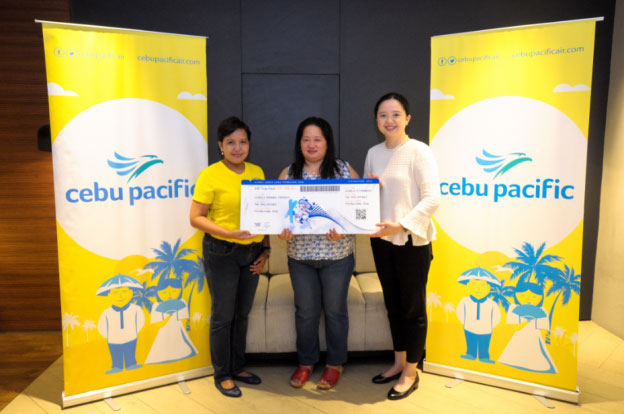 Cebu Pacific Air Corporate Communications Director Charo Lagamon (left) and Visa Philippines Marketing Director Gladys Chan award the VIP trip package to campaign winner Leonila Parungao (center)
Visa, Worldwide Olympic Sponsor, and Cebu Pacific today announced the winner of the Olympic Winter Games PyeongChang 2018 campaign. Leonila Parungao, a Filipina who migrated to Australia years ago with her family, walks away with the grand prize - a VIP trip package which consists of a four-day, three-night VIP trip to the Olympic Winter Games PyeongChang 2018 for two people. The package is inclusive of roundtrip airfare to Korea, hotel accommodations with daily breakfast, Olympic event tickets, ground transport to Olympic events and Visa activities, and a prepaid product worth US$300 which can be used in the Olympic venues.
"As a proud sponsor of the Olympic Winter Games PyeongChang 2018, Visa is pleased to partner with Cebu Pacific to enable Visa cardholders to win a trip for two to watch the upcoming Olympic Winter Games PyeongChang 2018. On behalf of the Visa team, I would like to congratulate Ms. Parungao for winning this amazing prize and having a chance to enjoy this experience in PyeongChang. We will ensure that every time our valued cardholders pay using Visa, they can enjoy a full suite of rewards that will transform their payment experiences," said Stu Tomlinson, Visa Country Manager for the Philippines and Guam.
"I did not expect to receive such a prize when I booked with Cebu Pacific using my Visa card. I've been a loyal customer of CEB, given that they offer the most competitive fares available in the market. Aside from that, travelling to other provinces is also made more convenient with CEB since I will no longer have to get my baggage to transfer to another terminal. I'd like to thank both Visa and Cebu Pacific for making this possible—this will definitely be an experience of a lifetime!" said Leonila Parungao.
Parungao will be flying to Incheon from Manila via Cebu Pacific on February 09, 2018 and will be enjoying a VIP package while in South Korea.
"Seamless connections from various points in the Philippines at year-round low fares allow more travellers to fly to different countries, see new places and create new experiences. Through our partnership with Visa, we hope to encourage travellers to use their Visa debit, prepaid or credit cards in booking their Cebu Pacific flights. Cebu Pacific is honoured to partner with Visa in support of the Olympic Winter Games PyeongChang 2018," said Candice Iyog, CEB Vice President for Marketing and Distribution.
The Olympic Winter Games PyeongChang 2018 promo campaign ran from October 1 to 31, 2017. All Visa cardholders who booked Cebu Pacific flights to any international destination using their credit, debit and prepaid cards are entitled to a raffle entry.
About Visa
Visa Inc. (NYSE: V) is the world's leader in digital payments. Our mission is to connect the world through the most innovative, reliable and secure payment network - enabling individuals, businesses and economies to thrive. Our advanced global processing network, VisaNet, provides secure and reliable payments around the world, and is capable of handling more than 65,000 transaction messages a second. The company's relentless focus on innovation is a catalyst for the rapid growth of connected commerce on any device, and a driving force behind the dream of a cashless future for everyone, everywhere. As the world moves from analog to digital, Visa is applying our brand, products, people, network and scale to reshape the future of commerce. For more information, visit www.visa.com.ph ,visacorporate.tumblr.com and @VisaNews.