Visa and Inna Palacios team up to promote football and women's empowerment in the Philippines
03/10/2023
As the country gears up to support its national team to perform on the grandest of all women's football stages, the FIFA Women's World Cup™, later this year
Visa, a world leader in digital payments, is partnering with the Philippine women's national football team goalkeeper Inna Palacios to reinforce its support to Philippine sports and women's empowerment.
The momentous partnership is one of Visa's initiatives to spread the importance of sports in the country, especially to women, and raise awareness about the national football team's success leading up to the much-awaited first showing at the FIFA Women's World Cup™ in Australia and New Zealand, which will take place from 20 July to 20 August 2023. The national team last won the country's first ever title in history with its victory over powerhouse Thailand at the 2022 ASEAN Football Federation Championship.
Visa remains a staunch supporter of sports on the global and local stages. It has been one of FIFA's longest-tenured sponsors since 2007. As the Worldwide Payment Technology Partner of the FIFA women's World Cup , Visa is part of momentous events including the recent FIFA World Cup Qatar 2022™. It also showed its advocacy for women's football and women empowerment through its participation in the last 2019 Women's World Cup in France.
Aside from FIFA, Visa has also been an official partner of the Olympic Games since 1986. Visa recently sponsored top gymnast Carlos Yulo in the Olympic Games Tokyo 2020.
"Visa is an organization committed to uplift the Philippines and Filipinos in different aspects, including sports such as football. We strongly believe that supporting athletes who join international sports competitions is important in nation-building," Jeff Navarro, Visa Country Manager for the Philippines and Guam, shares.
Bringing pride to the Philippines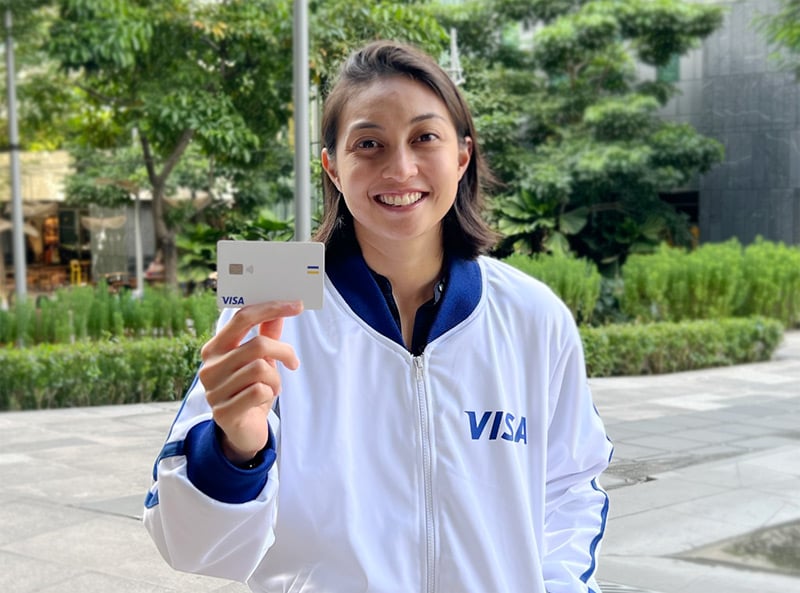 Inna Palacios is among the key stalwarts of the women's national team, having been a consistent fixture since her teens when she was first called up to play for the under-16 national team in 2007. A De La Salle alumnus, Inna is one of the only two players in national team history to represent the country for more than 50 games. Palacios marked her 50th cap in front of the home crowd when the Filipinas beat Singapore 7-0 in the group stage of the 2022 AFF Women's Championship.
"As an athlete, it has always been one of my dreams to represent my country on the global stage, to showcase Filipino upbringing. I want my journey to be an inspiration to my countrymen, especially to the youth and young women who aspire to become football players, that humble beginnings, right values, passion, and hard work can bring them success. I am so happy and excited to team up with such a leading global brand like Visa to boost the popularity of the beautiful game and our national team," Palacios says.
"We are happy to work with Inna Palacios, the nation's top goalkeeper who not only lives and breathes football but is also just as passionate about women empowerment as we are. This sport has been on a consistent rise here and is further amplified with the Filipinas' continued success. We want to become their ally to drive up our countrymen's support to the national team and their bid to perform their best at the FIFA Women's World Cup™ this year," Navarro adds.
The team will make history as the first Philippine national team to make its debut in any major FIFA football competition. Hosted by Australia and New Zealand, the FIFA Women's World 2023™ is slated to take place from 20 July to 20 August 2023, in a field composed of teams from across the globe. It is the biggest women's sporting event in the world, with 32 nations competing in 64 games.
---
About Visa
Visa (NYSE: V) is a world leader in digital payments, facilitating more than 215 billion payments transactions between consumers, merchants, financial institutions and government entities across more than 200 countries and territories each year. Our mission is to connect the world through the most innovative, convenient, reliable and secure payments network, enabling individuals, businesses and economies to thrive. We believe that economies that include everyone everywhere, uplift everyone everywhere and see access as foundational to the future of money movement. Learn more at Visa.com.