Visa and Caltex launch "Win Big with a Mini" Raffle Promo
11/28/2014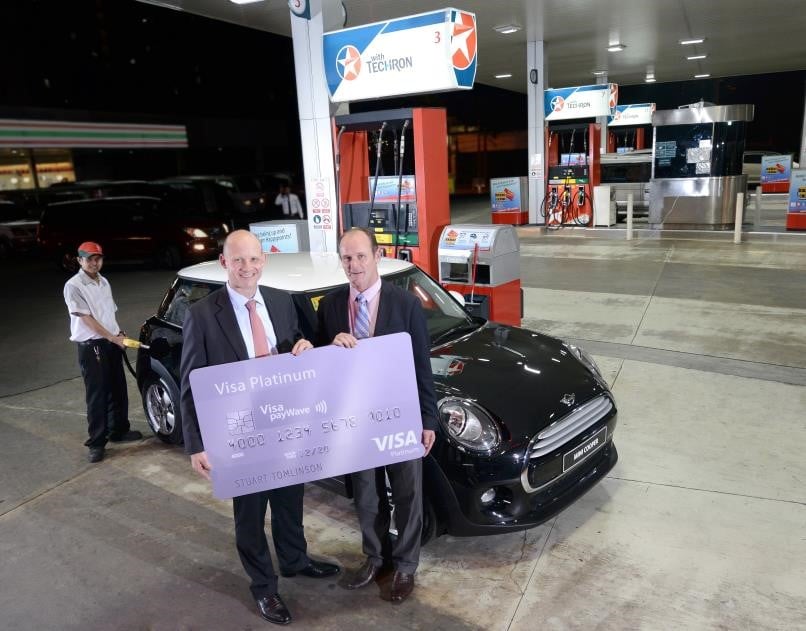 Peter Morris, Chevron Philippines Inc. Country Chairman and General Manager for Philippine products and Stuart Tomlinson, Visa Country Manager for the Philippines and Guam officially launch the Caltex-Visa Mini Promo.
Visa and Chevron Philippines have a big surprise in store for their clients as they collaborate to introduce the "Win Big with a Mini" Caltex-Visa Promo. Starting December 1, 2014, Visa Credit, Debit, and Prepaid cardholders who gas up at participating Caltex stations can get a chance to win an all-new Mini Cooper A/T 1.5L for every PHP 1,000 worth of Caltex Diesel with Techron, Caltex Silver with Techron, or Caltex Gold with Techron [1].
In addition, every PHP 1,000 or more receipt doubles as raffle ticket for Visa cardholders, offering a chance to win instant prizes, including Robinsons Gift Certificates worth PHP 500, Starbucks Coffee Gift Certificates worth PHP 200, or Caltex StarCash worth PHP 300.
"Visa understands how little, mini surprises like these can go a long way for our cardholders. This promotion is our way of giving back as we provide our customers with instant prizes and a chance to win a brand-new Mini Cooper," said Stuart Tomlinson, Visa Country Manager for the Philippines and Guam.
"Chevron Philippines is proud to work with Visa to reward our patrons with the opportunity to receive exclusive perks and benefits whenever they fill up at our Caltex service stations," said Peter Morris, Chevron Philippines Country Chairman and General Manager, Products.
The Caltex-Visa Mini Promo will run from December 1, 2014 to January 31, 2015. The grand draw will be held on February 04, 2015.
| | |
| --- | --- |
| [1] | Terms and conditions apply. |
About Visa
Visa Inc. (NYSE: V) is a global payments technology company that connects consumers, businesses, financial institutions, and governments in more than 200 countries and territories to fast, secure and reliable electronic payments. We operate one of the world's most advanced processing networks — VisaNet — that is capable of handling more than 56,000 transaction messages a second, with fraud protection for consumers and assured payment for merchants. Visa is not a bank and does not issue cards, extend credit, or set rates and fees for consumers. Visa's innovations; however, enable its financial institution customers to offer consumers more choices: pay now with debit, pay ahead of time with prepaid or pay later with credit products. For more information, visit usa.visa.com/about-visa, visacorporate.tumblr.com and @VisaNews.