Team Visa Athletes, including Michael Martinez from the Philippines, Launch Global Film for the Olympic Winter Games PyeongChang 2018: "Resetting Finish Lines"
01/26/2018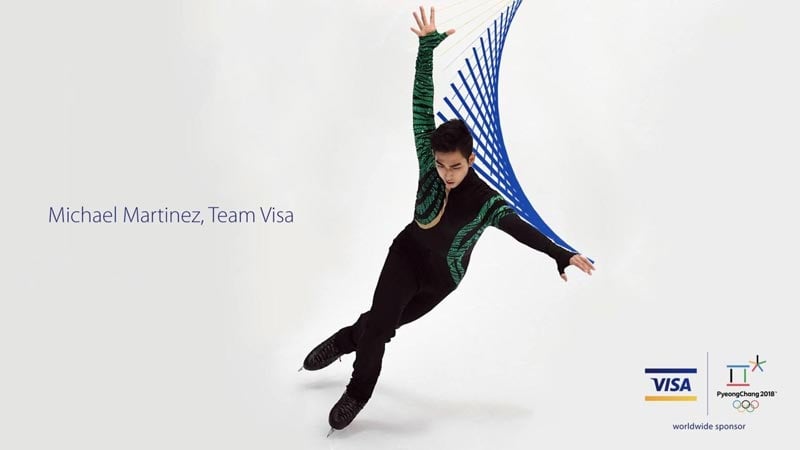 Michael Christian Martinez (Philippines, Figure Skating)
With less than one month until the Olympic Winter Games PyeongChang 2018 Opening Ceremony, Visa's (NYSE: V) roster of Team Visa athletes took the lead in launching the brand's full-length 60-second global advertising campaign, "Resetting Finish Lines", across their personal social media accounts. Over the past week, all 54 members of the Team Visa roster, including Olympic and Paralympic athletes, hopefuls, and legends representing twenty-one (21) countries and fifteen (15) sports, premiered the full-length spot ahead of its traditional debut on global digital and broadcast channels to highlight their appreciation for the support they've received during their training for PyeongChang 2018.

Team Visa athletes including Michael Martinez (Philippines, Figure Skating) were among the first in Asia Pacific to introduce the campaign on their social channels to share their excitement leading up to PyeongChang 2018. It was announced that Michael Martinez qualified for the upcoming Olympic Winter Games PyeongChang 2018 after one competitor pulled out of the competition.
"Creating a film and inviting Team Visa athletes to be the stars and represent the Visa brand is our way of celebrating their inspiring stories and cheering them on throughout their journey. In the Philippines, we are especially proud to celebrate the news of Team Visa athlete, Michael Martinez qualifying for the Olympic Winter Games PyeongChang 2018. Everyone in the Philippines is behind him and we hope to see him achieve great success in Pyeongchang," said Stuart Tomlinson, Visa Country Manager for the Philippines and Guam.
The film plays an integral role in Visa's overall Olympic and Paralympic Games sponsorship, which includes onsite activations and new payment wearables. The creative thematic behind the campaign is "resetting finish lines," rooted in the understanding that these athletes are continuously pushing their personal and athletic boundaries in pursuit of achieving their Olympic and Paralympic Winter Games dreams.
The global film is a compilation of vignettes that highlight the inspirational and historic stories of eight Team Visa athletes en route to the Games. Along the way, athletes leverage payment innovations, such as Visa Checkout, contactless cards and the recently announced wearable payment devices, including payment-enabled gloves, commemorative stickers and Olympic Winter Games pins that are now commercially available in Korea. This marketing campaign will feature Visa's suite of sensory branding, developed to support an expanded universe of connected, payment-enabled devices. Visa's unique sound, animation and haptic (vibration) cues signify completed, secure transactions in digital and physical retail environments when consumers pay using Visa.
Shot by prominent sports marketing director, Stacy Wall, the film encompasses one global storyline that will be shown in more than a dozen versions across the world. The film was shot in New Zealand and South Korea, and each of the 13 versions highlight local Team Visa Olympic and Paralympic athletes using a variety of payment technologies. Localised versions include: Canada, China, Japan, Italy, South Korea, Poland, United Kingdom and the United States.
To capture the spirit of the Games, Visa updated the lyrics, music and vocals of "Anything You Can Do" by Irving Berlin to match the energy of these athlete stories. The athletes featured in the global film include: Mark McMorris (Canada, Snowboard -- Slopestyle & Big Air), Chloe Kim (USA, Snowboard - Halfpipe), Mikaela Shiffrin (USA, Alpine Skiing), Park, Seung-Hi (South Korea, Speed Skating), Seun Adigun (Nigeria, Bobsled), Ngozi Onwumere (Nigeria, Bobsled), Akuoma Omeoga (Nigeria, Bobsled), and Sara Takanashi (Japan, Ski Jumping). The following athletes are also featured in different versions of the film: Hilary Knight (USA, Ice Hockey), Oksana Masters (USA, Para cross-country skiing & Para biathlon), Kamil Stoch (Poland, Ski Jumping), Han Cong (China, Figure Skating), Sui Wenjing (China, Figure Skating) and Han Tianyu (China, Short Track Speed Skating).
To learn more about Visa and its Olympic Games sponsorship, visit https://usa.visa.com/about-visa/sponsorships-promotions/olympics-partnership.html.
About Visa Inc.
Visa Inc. (NYSE: V) is the world's leader in digital payments. Our mission is to connect the world through the most innovative, reliable and secure payment network - enabling individuals, businesses and economies to thrive. Our advanced global processing network, VisaNet, provides secure and reliable payments around the world, and is capable of handling more than 65,000 transaction messages a second. The company's relentless focus on innovation is a catalyst for the rapid growth of connected commerce on any device, and a driving force behind the dream of a cashless future for everyone, everywhere. As the world moves from analog to digital, Visa is applying our brand, products, people, network and scale to reshape the future of commerce. For more information, visit www.visa.com.ph