Security becomes top priority as electronic payments take roots
02/17/2015
Partnership with BancNet to help local banks speed up migration to EMV chip cards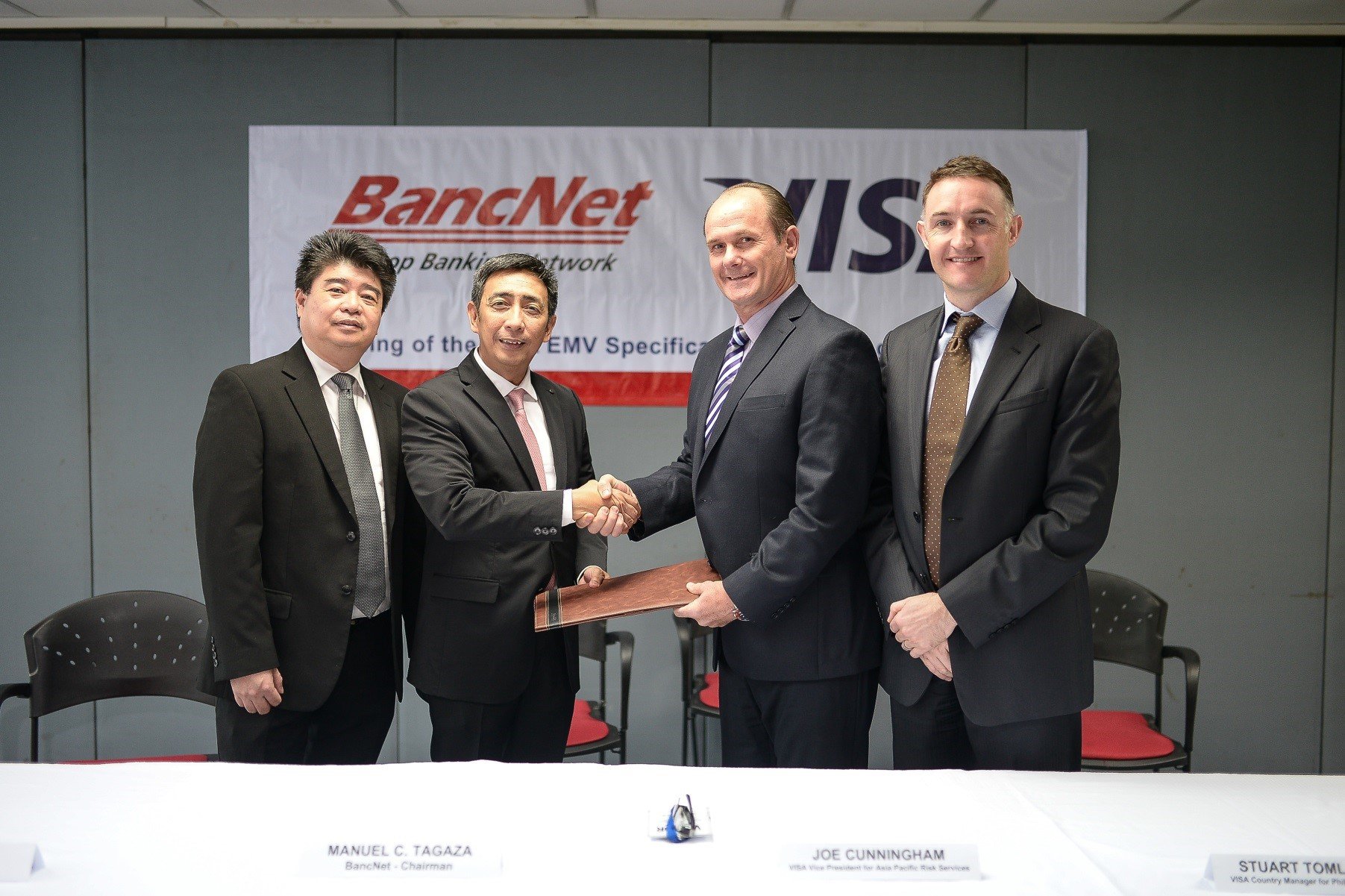 BancNet President Robert P. Blas, BancNet Chairman of the Board Manuel C. Tagaza, Visa Country Manager for the Philippines and Guam Stuart Tomlinson, and Visa Asia Pacific Head of Risk Joe Cunningham signed the memorandum of agreement to use Visa platform for EMV chip card migration to be completed by 2017

Visa and BancNet have signed a memorandum of agreement to help the nation's largest interbank network accelerate migration to EMV chip cards, as mandated by Bangko Sentral ng Pilipinas (BSP).
The agreement allows BancNet to access Visa's EMV implementation standards to facilitate EMV chip conversion for all domestic transactions. This includes not just issuing chip-enabled cards, but also working to ensure ATMs and point-of-sale terminals meet the internationally recognized chip-standards by January 1, 2017.
"Trust underpins all transactions. As electronic payments grows in the Philippines, we are committed to ensuring consumers are protected whenever and wherever they transact electronically, be it face-to-face or online," said Stuart Tomlinson, Visa Country Manager for the Philippines and Guam. "To safeguard this trust, the cooperation between Visa and BancNet ensures that Filipino consumers will have access to secure payment options that will keep their hard-earned money safe."
EMV cards contain an embedded microprocessor, which creates a new transaction code every time the card is used. This anti-counterfeit fraud solution provides strong security features previously not possible with traditional magnetic stripe cards.
"Upon completion of the migration, local banks and businesses will be highly protected against counterfeit fraud, and less likely to be targets for skimming and data theft. BancNet will be able to further strengthen the security of its ATMs as well as fundamentally bring greater security to the delivery of financial services across all channels," said BancNet Chairman Manuel C. Tagaza.
"As the country's largest multi-bank, multi-channel payment gateway, BancNet is committed to ensuring that its members' cardholders receive the best and most stable security in all transactions. Visa's proven standard, backed by years of global experience and expertise, gives us a lot of confidence that we will succeed in our EMV migration," added Tagaza.
The EMV chip standard, a global industry standard for a secure payment transaction, is developed by EMVCo – which is collectively owned by American Express, Discover, JCB, MasterCard, UnionPay and Visa.
"The licensing of Visa's EMV standards to BancNet will be beneficial for the industry as a whole. When it comes to security, we each have a role to play and a collective interest in maintaining the highest security standards available. The integration of EMV chip is an excellent step in this direction and I am proud to see the Philippines leading in this manner," said Joe Cunningham, Visa Head of Risk, Asia Pacific. "In fact, the Philippines' domestic point-of-sale counterfeit fraud has reduced significantly since the introduction of EMV chip in 2012."
The mandate comes as the country continues to experience robust growth in electronic payments. With an average Filipino consumer owning more than one payment card and the positive attitude of Filipino consumers towards electronic payments [1], there is a need to reinforce the importance of security.
In addition to assisting local banks with the implementation of the EMV chip standard, Visa constantly develops strategies designed to approach risk management and innovation holistically. This involves fraud prevention measures, consumer protection, threat and fraud detection and response, and partnerships that allow Visa to build on the security introduced by technical innovations such as the EMV chip.
"As the payment ecosystem becomes more complex with more stakeholders and products, Visa is taking a multi-layered approach to mitigate risk. The EMV chip's transaction-unique online cryptogram, and data and identity authentication through PIN entry helps to protect the card present transaction environment," Cunningham concluded.
---
| | |
| --- | --- |
| [1] | Visa Consumer Payment Attitudes Study 2014, conducted July 2014 by BlackBox research on behalf of Visa. |
About Visa
Visa Inc. (NYSE: V) is a global payments technology company that connects consumers, businesses, financial institutions, and governments in more than 200 countries and territories to fast, secure and reliable electronic payments. We operate one of the world's most advanced processing networks — VisaNet — that is capable of handling more than 56,000 transaction messages a second, with fraud protection for consumers and assured payment for merchants. Visa is not a bank and does not issue cards, extend credit, or set rates and fees for consumers. Visa's innovations; however, enable its financial institution customers to offer consumers more choices: pay now with debit, pay ahead of time with prepaid or pay later with credit products. For more information, visit usa.visa.com/about-visa, visacorporate.tumblr.com and @VisaNews.
About BancNet
BancNet is a multi-bank, multi-channel electronic payment network in the Philippines that enables its members' customers to transact anywhere, anytime, not only at any Automated teller machine (ATM) but also at point-of-sale (POS) terminals, the Internet, and through a mobile phone. It started operations on July 17, 1990. Through its interconnection with international ATM and POS networks Diners Club, Discover Card, JCB, MasterCard, VISA and Union Pay, BancNet enables foreign cardholders to access their accounts here in the Philippines. It has also interconnected with the New York Currency Exchange (NYCE) allowing cardholders of locally issued ATM cards to access their accounts while they are in the United States through NYCE's network of ATMs. BancNet is supervised by the Bangko Sentral ng Pilipinas (BSP) and is a member of the Asian Payment Network (APN).