Jollibee launches 'Tap-Sarap with Visa' promotion powered by Maya Business
02/16/2023
Visa and Jollibee advocate for digital payments in fast casual dining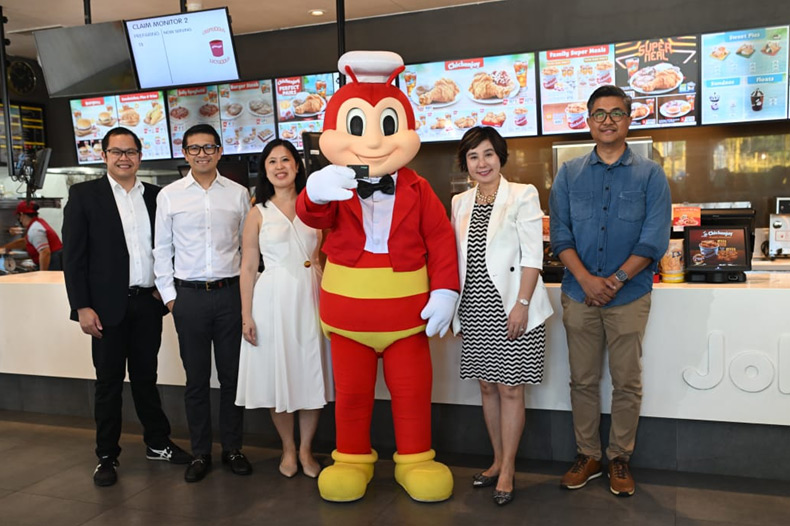 Visa, Jollibee and Maya executives launch the "Tap-Sarap with Visa" promotion at Jollibee's 1,000th store in Bonifacio Global City

From left to right: Jollibee Vice President of Mega Manila and National Key Accounts Group Head Reynaldo Gabunada Jr., Visa Country Manager for the Philippines and Guam Jeff Navarro, Jollibee Vice President and Marketing Head Dorothy Jane Ching, Visa Senior Vice President and Head of Marketing in Asia Pacific Danielle Jin, and Maya Managing Director and Head of Enterprise Business and Sales Mario Lazaro

Visa, a world leader in digital payments, partners with Jollibee to promote the "Tap-Sarap with Visa" program powered by Maya Business, where payments with Visa cards from all issuing banks at over 1,000 branches of the fast food chain's stores nationwide can get a free product upon meeting the minimum purchase amount, within the program period.
From February 15 to March 1, 2023, customers who spend a minimum of PHP 500 on their food purchase using a Visa prepaid, debit or credit card at any participating Jollibee store in the Philippines will receive one of the following complimentary treats: Cheesy Yumburger, Jolly Spaghetti, Tuna Pie, or Peach Mango Pie. The promotion is applicable to dine-in, take-out, and drive-through transactions.
The partnership reflects the growing preference of Filipinos for cashless payments. Visa's latest Consumer Payment Attitudes Study, which was conducted with 1,000 Filipino respondents in August to September 2021, showed that 84 percent have already tried going cashless in 2021, with 60 percent carrying less cash in their wallets.
This study also found that of the various cashless payment options, card payments (both online and at physical merchants) continue to be one of the more preferred options.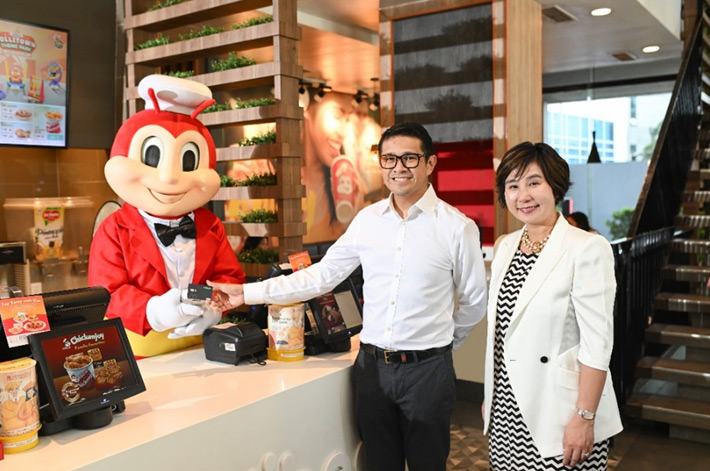 Visa Country Manager for the Philippines and Guam Jeff Navarro and Senior Vice President and Head of Marketing in Asia Pacific Danielle Jin
"We are inviting everyone to celebrate the month of love with their family and friends with this exclusive deal from Visa and Jollibee. With the acceptance of Visa cards at Jollibee in the Philippines, we hope to encourage more Filipinos to experience the benefits of going cashless, such as enjoying a hassle-free experience when paying for goods and services. We are excited to roll out cashless payments with Visa to more Jollibee stores in the future," shares Jeff Navarro, Visa Country Manager for the Philippines and Guam.
"The aim of our partnership with Visa is to provide our loyal customers with a more enjoyable and convenient dining experience. There are many benefits to going cashless and for this love month, that includes treating our valued customers with their favorite Jollibee snack," says Dorothy Jane Ching, VP and Head of Marketing of Jollibee Philippines.
For more details about the 'Tap-Sarap with Visa' promotion, please visit https://www.visa.com.ph/en_ph/visa-offers-and-perks/jollibee/152672.
---
About Visa
Visa (NYSE: V) is a world leader in digital payments, facilitating transactions between consumers, merchants, financial institutions and government entities across more than 200 countries and territories. Our mission is to connect the world through the most innovative, convenient, reliable and secure payments network, enabling individuals, businesses and economies to thrive. We believe that economies that include everyone everywhere, uplift everyone everywhere and see access as foundational to the future of money movement. Learn more at Visa.com.

About Jollibee
Jollibee is the largest fast-food chain brand in the Philippines, operating a network of more than 1,500 stores in 17 countries. A dominant market leader in the Philippines, Jollibee enjoys the lion's share of the local market that is more than all other multinational fast-food brands in the Philippines combined. With a strict adherence to the highest standards of food quality, service and cleanliness, Jollibee serves great-tasting, high-quality and affordable food products to include its superior-tasting Chickenjoy, mouth-watering Yumburger, and deliciously satisfying Jolly Spaghetti among other delicious products.
Jollibee has embarked on an aggressive international expansion plan, with more than 270 international branches in the United States, Canada, Hong Kong, Macau, Brunei, Vietnam, Singapore, Malaysia, Saudi Arabia, United Arab Emirates, Qatar, Oman, Kuwait, Bahrain, Italy, Spain, and in the United Kingdom.

About Maya and Maya Business
Maya is the Philippines' only all-in-one money platform with the most comprehensive digital financial services ecosystem. Maya is powered by Maya Philippines for payments and Maya Bank for digital banking. Learn more at www.maya.ph and www.mayabank.ph.
As the all-in-one growth partner, Maya Business enables all types of businesses to grow in bolder directions through effortless business-to-business (B2B) payments, payments acceptance, and money management solutions. It connects businesses to the wider Maya ecosystem and lets them tap into a burgeoning new market that uses Maya or other payment methods. Maya Business also provides its partners with a keen edge in revenue growth with secure and progressive banking products powered by Maya Bank, Inc. Visit www.maya.ph/business for more information.