Ideas that matter: Challenging young Filipino minds
12/02/2014
IDEA'YALA, Ayala Malls, and Visa partner to foster creativity and innovation among the Filipino youth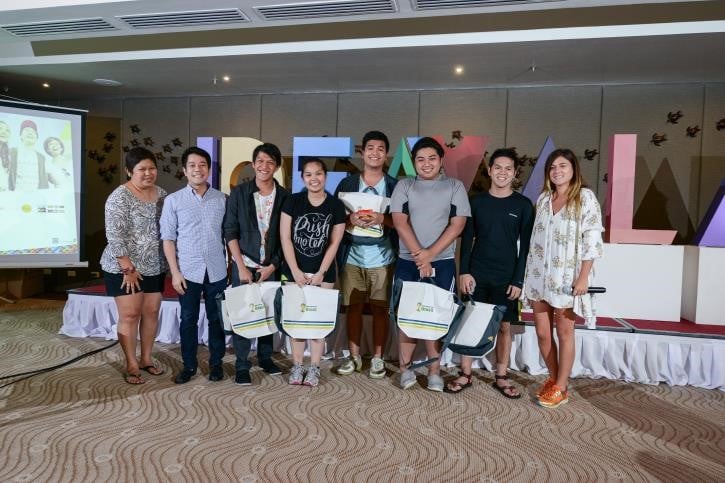 Visa Challenge winners Team Wedea with representatives from Ayala Malls and Visa. From left to right: Rowena M. Tomeldan, Ayala Land Vice President and Head of Operations; Nico Salanio, Visa Head of Prepaid and Debit, Team Wedea members Erielle Pineda, Raisa Landayan, Nick Nakpil, JM Rebullante, and Terence Eduarte; Paloma Zobel, co-founder of IDEA'YALA.
Let's say you stumbled upon an irresistible group getaway deal for your barkada. You proceed to book the trip for your group, except for one hitch—your payment card has been maxed out. How will you split the tab and collect your friends' individual payments so that you can settle the bill?
Young professionals, who are no strangers to this usual issue, conceptualized a way to let members of a barkada individually pay their share of a bill during the Visa Challenge at the 1st IDEA'YALA Youth Boot Camp in Anvaya Cove, Morong, Bataan.
IDEA'YALA is a youth competition co-founded by Ayala Malls and Paloma Zobel. The program encourages the youth to think, design, and create innovative ideas and solutions that can help shape their experiences and that of communities.
Visa partnered with IDEA'YALA to introduce the Visa Challenge, where young professionals were challenged to develop an innovative Visa product that caters to the youth.
A group of business and communication graduates from the University of the Philippines (UP), University of Santo Tomas (UST), and University of Asia and the Pacific (UA&P) developed the winning pitch, which stood out for its creativity, innovativeness, sustainability, and relevance to the target market.
Raisa Landayan, Erielle Pineda, Nick Nakpil, JM Rebullante, and Terence Eduarte of Team Wedea came up with the idea of Visa Social, a payment system that allows Visa cardholders to share their purchases through social media and split them among themselves.
"We saw an opportunity for Visa Social whenever the youth purchase goods or services online as a group," said Pineda.
Visa Social mainly targets young adults who often make purchases as a group, such as when availing of group travel packages or when going to see a movie. Visa Social allows friends, officemates, barkadas, or even family members to split their expenses and pay for their transactions in a more efficient manner. With most of the 19 million Filipino youth using their social media accounts 24/7, integrating a payment system into these platforms will help increase adoption and add relevance to the service.
"Visa strives to innovate to be able to provide consumers with payment solutions that are relevant to their lifestyle. By engaging the Filipino youth and encouraging the flow of ideas from their fresh minds, innovations as brilliant as Visa Social can truly spark change and provide unique solutions that are relevant to the younger, more tech-savvy generation," said Stuart Tomlinson, Visa Country Manager for the Philippines and Guam.
"We saw that there were a lot of creative and talented youth bubbling in the country. IDEA'YALA is the perfect platform for these young minds to have an outlet and show their creativity through innovative ideas that can help the malls give the youth what they really want," said Zobel. "Through our partnership with Visa, ideas such as Visa Social from Team Wedea can truly enhance their mall experiences by providing a unique and innovative platform that will change the way they interact with businesses and services within the mall."
"With the youth comprising majority of the population, I think it's important for people to hear what we have to say. Through IDEA'YALA, our ideas can be better heard by institutions such as Visa, and will help make a difference in the lives of people," added Landayan.
About Visa
Visa Inc. (NYSE: V) is a global payments technology company that connects consumers, businesses, financial institutions, and governments in more than 200 countries and territories to fast, secure and reliable electronic payments. We operate one of the world's most advanced processing networks — VisaNet — that is capable of handling more than 56,000 transaction messages a second, with fraud protection for consumers and assured payment for merchants. Visa is not a bank and does not issue cards, extend credit, or set rates and fees for consumers. Visa's innovations; however, enable its financial institution customers to offer consumers more choices: pay now with debit, pay ahead of time with prepaid or pay later with credit products. For more information, visit usa.visa.com/about-visa, visacorporate.tumblr.com and @VisaNews.