HSBC makes payments more secure and convenient with EMV and Visa payWave
08/08/2014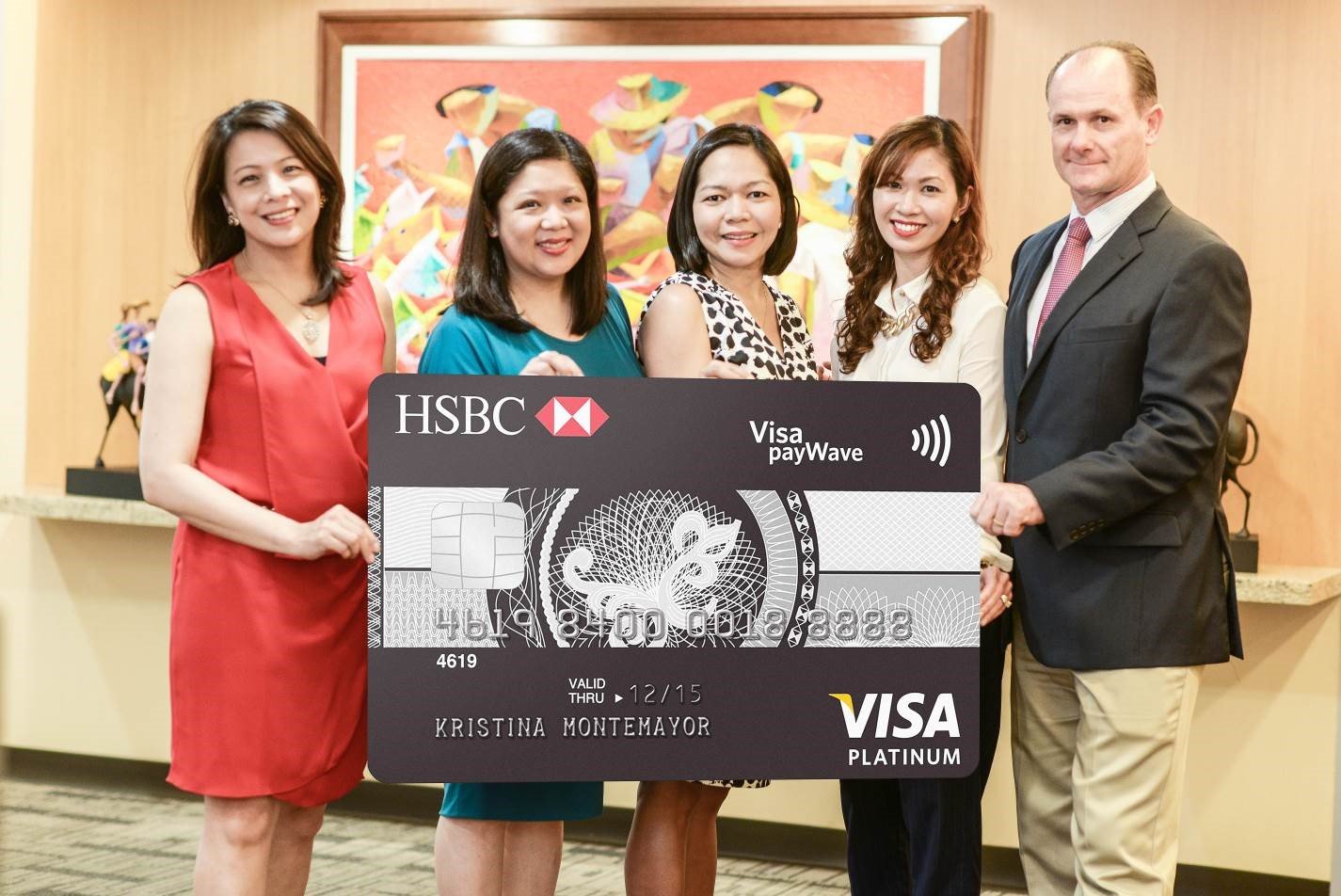 From L-R: Gigi Pio de Roda, HSBC SVP/Head of Retail Banking and Wealth Management, Anya Cajucom, HSBC Vice President of Customer Value Management, Jasmine Alansalon Gonzales, HSBC Vice President of Customer Value Management, J-Ann Reyes, Visa Business Development Director, and Stuart Tomlinson, Visa Country Manager for the Philippines and Guam.
HSBC Visa cardholders can now experience more secure and convenient shopping as HSBC rolls out its new HSBC Visa credit cards equipped with an EMV (Europay MasterCard Visa) chip on top of Visa payWave technology for HSBC Gold, Advance, and Platinum Visa credit cards.
EMV sets a new standard with increased protection against credit card fraud. Visa payWave provides cardholders the convenience of faster transactions without their cards leaving their hands.
"Our goal is to enhance card security in the country by introducing more secure payment technologies to our Visa cardholders without compromising convenience," said Gigi Pio de Roda, HSBC SVP/Head for Retail Banking and Wealth Management "Our collaboration with Visa enables us to address this security concern through the use of Visa payWave and EMV chip technology."
HSBC Visa payWave cardholders can simply wave their cards in front of Visa payWave readers to pay for their transactions. Purchases PHP 2,000 and below will no longer require the cardholder's signature, collecting the receipt is also an option. For larger payments, the HSBC Visa payWave card can still be waved but the Visa cardholder will be required to sign. Pio de Roda added "With HSBC Visa payWave, cardholders will also enjoy faster transactions, reducing queuing times".
"Filipinos are living a fast-paced lifestyle, where every minute wasted waiting in line is money down the drain. Visa recognizes the value in providing more convenient payment methods while keeping our cardholders' transactions secure and giving them peace of mind. Our collaboration with HSBC is another step by Visa to provide secure and hassle-free payment options to more Filipino consumers," Said Stuart Tomlinson, Visa Country Manager for the Philippines and Guam.
HSBC Gold, Advance, and Platinum Visa card applications approved starting August 5, 2014 will receive the new designs of the HSBC Visa payWave EMV credit cards. Existing HSBC Visa cardholders will be recarded upon their cards' expiration.
HSBC Visa payWave cardholders can use their cards at their favorite food establishments including selected outlets of Army Navy, Brothers Burgers, Healthy Options, Kenny Rogers, Megaworld Cinemas, Pepper Lunch, El Pollo Loco, Project Pie, and soon in McDonalds and Starbucks. Visa payWave is accepted at any Visa merchants bearing the Visa payWave symbol

.
About Visa
Visa is a global payments technology company that connects consumers, businesses, financial institutions, and governments in more than 200 countries and territories to fast, secure and reliable electronic payments. We operate one of the world's most advanced processing networks — VisaNet — that is capable of handling more than 47,000 transaction messages a second, with fraud protection for consumers and assured payment for merchants. Visa is not a bank and does not issue cards, extend credit or set rates and fees for consumers. Visa's innovations, however, enable its financial institution customers to offer consumers more choices: pay now with debit, ahead of time with prepaid or later with credit products. For more information, visit corporate.visa.com
About HSBC
HSBC is one of the world's largest banking and financial services organizations; the HSBC Group has been doing business in the Philippines for almost 139 years. The Bank currently has a 16-strong total branch network (including 9 branches of the locally incorporated HSBC Savings Bank) located in Metro Manila, Cebu and Davao.