GoTyme Bank, Visa and BancNet Partnership to Boost Philippines Digital Economy towards Cashless Society
09/06/2022
High-quality bank services and online payment transactions now accessible to more Filipinos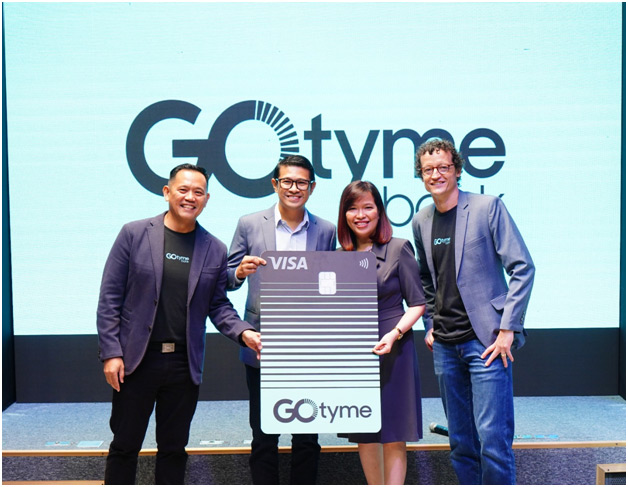 Partnering to promote better financial inclusion in the Philippines through the free GoTyme Bank ATM debit card and convenient services, from left to right: GoTyme Bank Co-CEO Albert Tinio, Visa Country Manager for the Philippines and Guam Jeff Navarro, BancNet CEO Emmie Reyes, and GoTyme Bank President and CEO Nathaniel Clarke

Today, GoTyme Bank, Philippine interbank ATM and online banking network BancNet, and Visa, one of the world's leaders in digital payments, formed a strategic partnership to address the need for convenient and accessible banking and digital payment solutions in the Philippines.
Cashless transactions have become the norm as a way to stay safe during the pandemic. The 2021 Consumer Payment Attitudes study conducted by Visa1, found 14% of the respondents used contactless cards to pay for their transactions for the first time in 2020 while 12% of the respondents, led by the Gen Z and Gen Y age groups, said they will be less likely to use cash after the current health crisis. This means that cashless payment forms such as cards and e-wallet, as well as digital bank platforms will play a bigger role in the transition to a cashless Philippine society.
Visa's worldwide reach and expertise in digital payments, synergizing with BancNet's extensive nationwide and offshore coverage, together with GoTyme Bank and the Gokongwei brand's reputation, technology and understanding of the Philippines market, will offer consumers high quality banking to every Filipino, and an exciting and rewarding digital payment and money movement experience.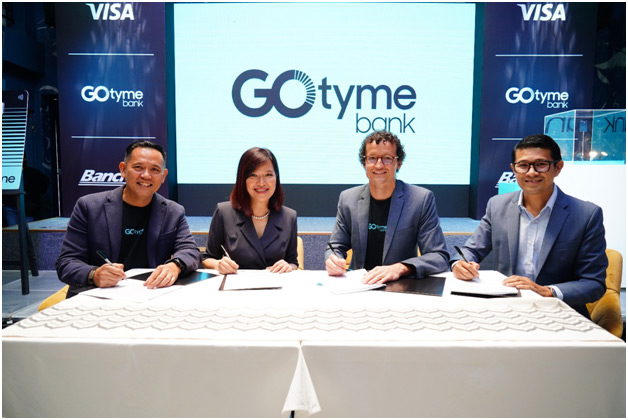 The GoTyme Bank ATM Debit Card is backed by the combined strengths of three financial institutions to offer Filipinos high quality banking services. At the Memorandum Signing (L-R): GoTyme Bank Co-CEO Albert Tinio, BancNet CEO Emmie Reyes, GoTyme Bank President and CEO Nathaniel Clarke and Visa Country Manager for the Philippines and Guam Jeff Navarro.

This partnership launch coincided with the introduction of the GoTyme Visa ATM Debit Card that will be given out for free to all GoTyme Bank Account holders. This high-quality card will allow everyone to enjoy the benefits of Visa for transactions worldwide including withdrawals from any ATM when traveling outside of the country.Powered by BancNet, which is the Philippines' single ATM switch operator, the multi-bank, multi-channel electronic payments network will enable GoTyme cardholders to transact not only at automated teller machines (ATM) but also at point-of-sale (P.O.S.) terminals, the Internet and mobile phones to access a wide range of services through the different channels, including real-time fund transfers and payment of purchases by direct debit to account through InstaPay.
The virtual and physical cards will have the same number and will be personalized with the cardholder's name. BancNet CEO Emmie Reyes says, "With this partnership, GoTyme will have access to the cutting-edge switch infrastructure that BancNet operates and which enables secure and reliable money transfers to other banks and e-wallets in real time, at any time. GoTyme customers will also be able to transact at over 24,000 ATMs and more than 480,000 POS terminals nationwide."
Jeff Navarro, Visa's Country Manager for the Philippines and Guam stated, "I am excited to launch this partnership with GoTyme and BancNet. Visa has always been committed to making the digital payment experience seamless, secure, and accessible to all. Visa's Consumer Payment Attitudes Study showed that more Filipinos are trying cashless modes of payment, and it is our collective goal to keep this momentum going. Together, we hope to address some of the barriers preventing Filipinos from embracing cashless payments, helping to drive greater financial inclusion in the country."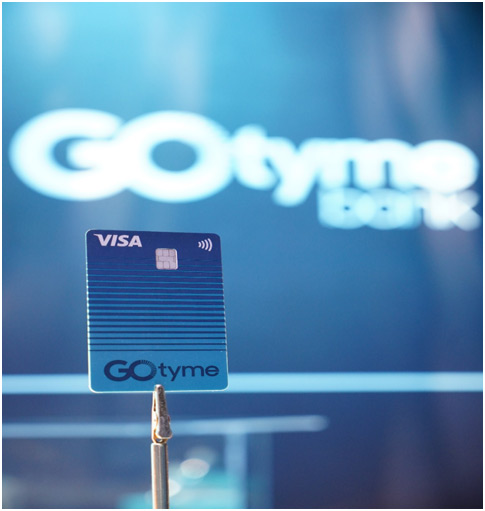 Unboxing better banking: The new GoTyme Bank ATM Debit Card launches convenient and secure access to local and international financial services through a strategic partnership with Visa and BancNet.

Initially, consumers who download the GoTyme app will be able to generate a Visa-powered virtual card for free that they can use to make digital payments and other related transactions, with more exciting solutions and benefits in the pipeline. This easy process for onboarding will offer safer, better and varied options for their banking and payments needs including instant access to banking and payments platforms through the Visa debit card. The personalized cards will be issued in real time through GoTyme Bank. These can be used for ecommerce and the physical card can also be used for transactions here and abroad.
"We are building on the success of Tyme in South Africa, which became the fastest Visa issuer in the continent, and we are bringing it to the Philippines with GoTyme Bank. This partnership aligns with our shared vision and commitment to uplift the Philippines' digital economy," says GoTyme Bank President and CEO Nathaniel Clarke.
"This partnership is designed to benefit all Filipinos by providing access to high quality banking and making digital and cashless transactions as seamless, secure, and convenient as possible. Through this, we hope to encourage more Filipinos to embrace digital payments as the way forward toward a cashless society," says GoTyme Bank Co-CEO Albert Tinio.
___________________________________
1 Visa Consumer Payment Attitudes Study was conducted from August-September 2021 through an online questionnaire to 1,000 Filipinos across Manila, Cebu, Cavite, Rizal, and Bulacan to assess consumer payment trends and interest in using new payment solutions.
---
About GoTyme Bank

GoTyme Bank, is a joint venture of Tyme, a multi-country digital banking group, with members of the Gokongwei Group of companies, namely Robinsons Bank, Robinsons Land Corporation, and Robinsons Retail Holdings, Inc. GoTyme Bank aims to unlock its customers' financial potential with the convenience and security of digital banking. With a high tech-high touch approach, GoTyme Bank combines the ease of immediate account opening with a personalized debit card released through kiosks located in shopping malls throughout the Philippines, plus the power of self-serve financial solutions accessible through an intuitive "all in one" banking app. These, along with other industry-leading offerings, set GoTyme Bank on-track to revolutionize banking in the Philippines.

About the Gokongwei Group
The Gokongwei Group is one of the largest and more diversified Filipino conglomerates. It is composed of JG Summit Holdings Inc. which has business interests in food manufacturing (Universal Robina Corporation), air transportation (Cebu Pacific), real estate and property development (Robinsons Land), banking (Robinsons Bank), and petrochemicals (JG Summit Olefins Corp.); and Robinsons Retail Holdings Inc. (RRHI); and the Summit Media Group.