Exciting freebies and discounts await Visa cardholders at SM Cinemas nationwide
05/01/2018
You can now easily avail of complimentary treats and rebates when you buy movie tickets at any SM Cinema branch using your Visa card. Catch the following promos today until November 30, 2018.
Online Wednesdays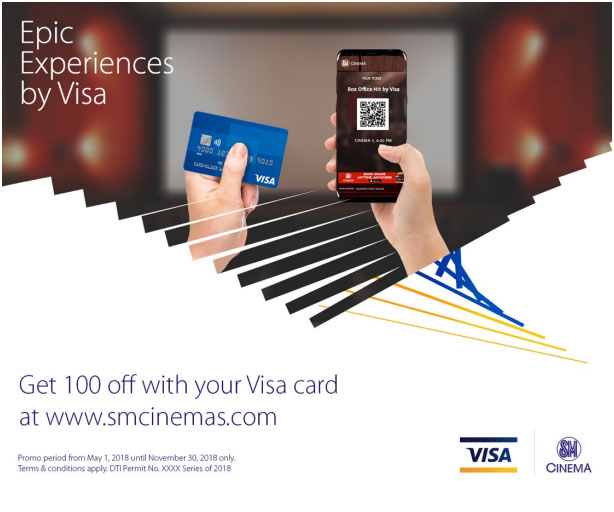 Beat the mid-week blues by watching a movie—for less. Get Php100 off when you purchase at least two (2) movie tickets at www.smcinemas.com on any Wednesday during the promo period.
To redeem the discount, all you have to do is click "Visa Promo Offer" on the payment options upon check-out, and enter your Visa card details as you pay. Php100 will be automatically deducted from your total bill.
Tap To Pay Fridays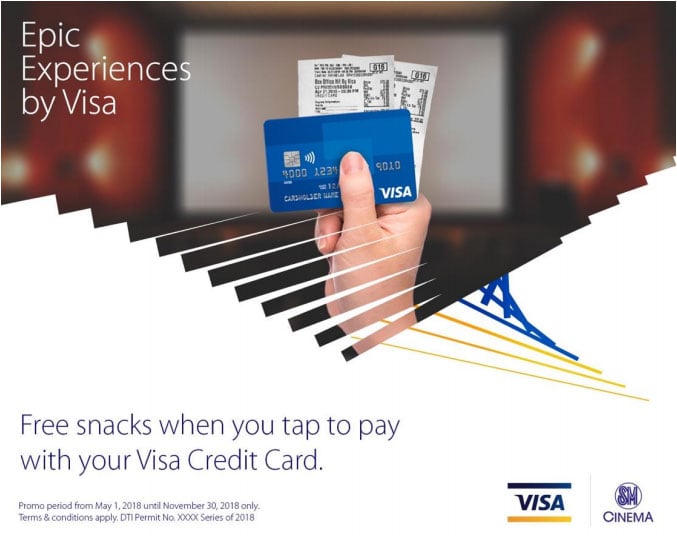 There's no better way to start the weekend than by catching the latest blockbuster with your friends while you indulge on yummy snacks. At SM Cinemas, you can get a free regular popcorn and two (2) bottles of water from the Snack Time counter for a minimum purchase of two (2) movie tickets every Friday during the promo period. This offer is open to all Philippine-issued Visa CREDIT Cards with a Tap To Pay (or Contactless) functionality.
To claim the goodies, simply pay for your tickets by tapping your Contactless Visa CREDIT Card on the POS Terminal at the ticket booth, collect the charge slip from the cashier and present it, together with your card, to the Snack Time Counter. Make sure to tap your card when you make the payment. Swiping or dipping it into the terminal will disqualify you from the promotion.
What are you waiting for? Take your Visa card and head to the nearest SM Cinema branch now to enjoy these exclusive perks.
About Visa
Visa Inc. (NYSE: V) is a global payments technology company that connects consumers, businesses, financial institutions, and governments in more than 200 countries and territories to fast, secure and reliable electronic payments. We operate one of the world's most advanced processing networks — VisaNet — that is capable of handling more than 65,000 transaction messages a second, with fraud protection for consumers and assured payment for merchants. Visa is not a bank and does not issue cards, extend credit, or set rates and fees for consumers. Visa's innovations; however, enable its financial institution customers to offer consumers more choices: pay now with debit, pay ahead of time with prepaid or pay later with credit products. For more information, visit www.visa.com.ph, http://visaapnews.asia/ and @VisaNews.