BDO Cardholders can now enjoy contactless payments with Visa payWave
03/27/2014
BDO Visa Credit Card holders can now wave and go at any Visa payWave accepting merchants, including Red Ribbon, Sbarro, Army Navy, Bon Chon, Jamba Juice, Kenny Rogers, Krispy Kreme, J.Co Donuts, El Pollo Loco and Seattle's Best and more.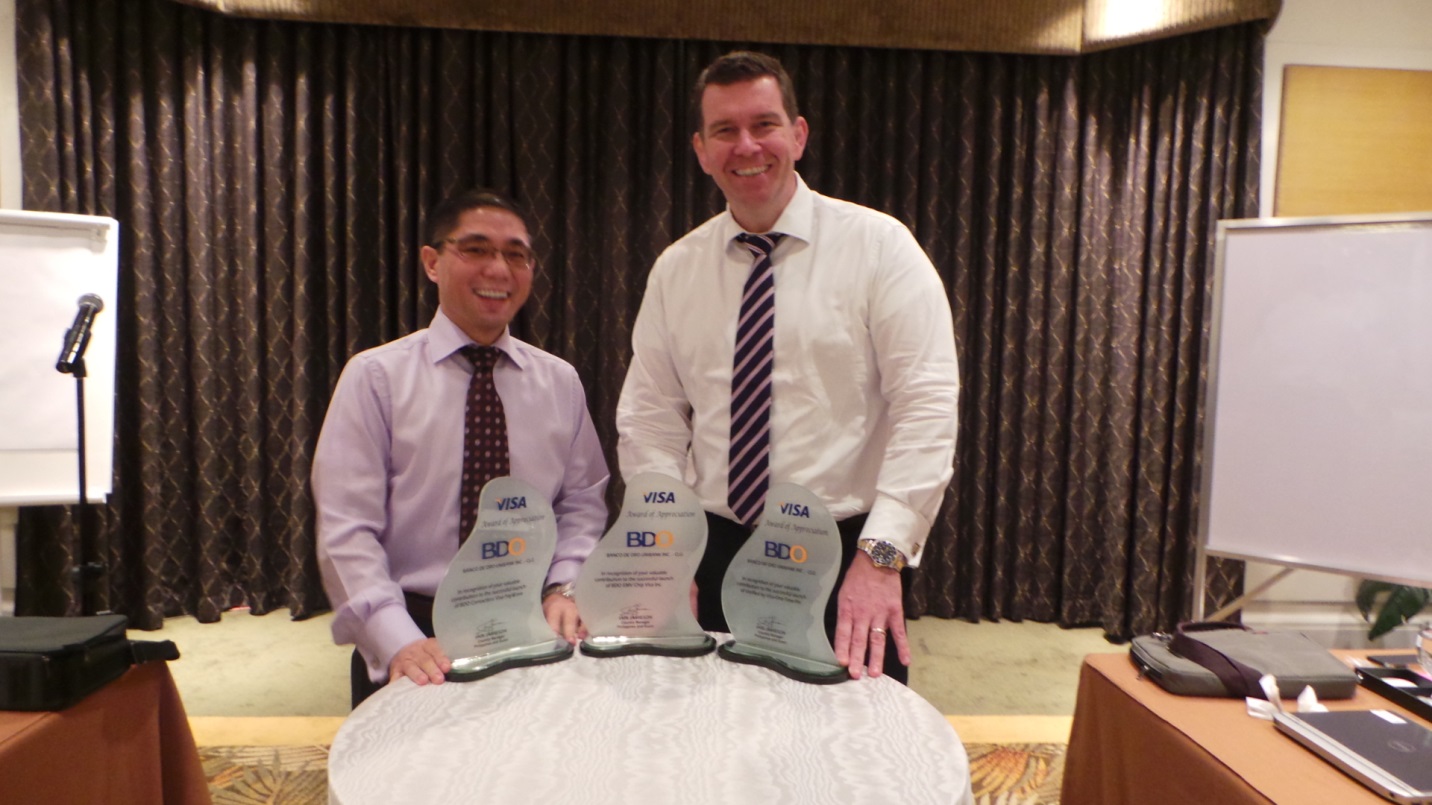 Rolando Tanchanco, BDO Executive Vice President and Consumer Lending Group Head and Visa Country Manager for the Philippines and Guam Iain Jamieson during the awarding ceremony for the launch of BDO Visa payWave.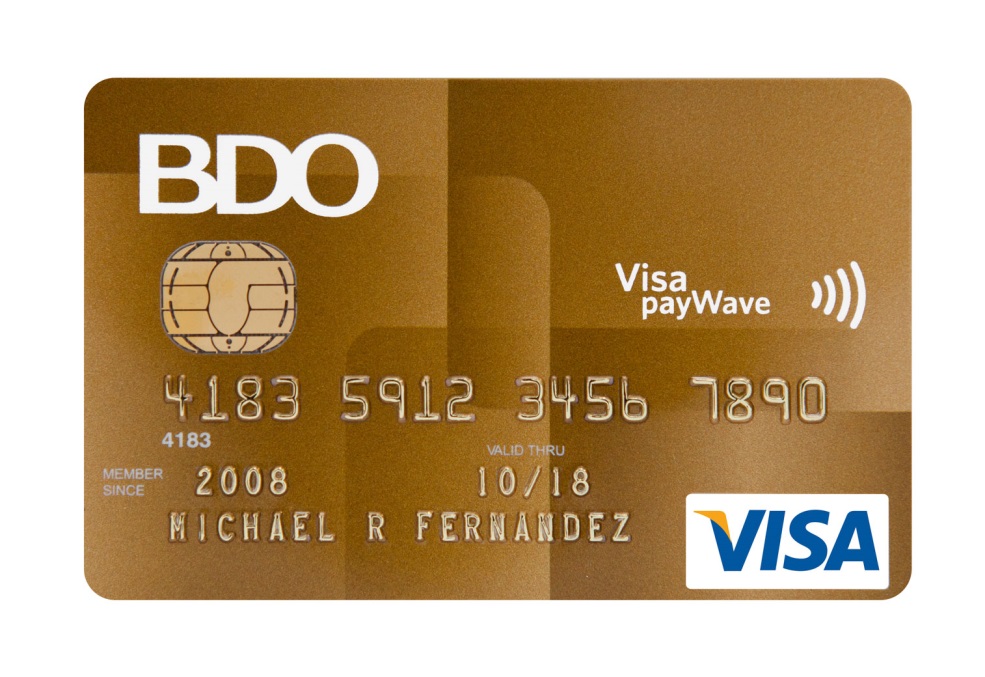 The BDO Gold EMV Visa payWave card
BDO Cardholders can now enjoy the convenience of contactless payments as BDO and Visa launch the BDO Visa payWave cards. BDO Visa Credit Card holders are given a faster, more secure, and hassle-free payment option that will enable them to make purchases without their cards leaving their hands.
"Contactless payments are starting to pick up in the Philippines as more and more consumers and retailers are realizing the benefits of contactless technology. This partnership with BDO will ensure that busy Filipino Visa Cardholders will no longer need to fumble with cash, and can instead use their BDO Visa payWave cards which are every bit as secure as regular Visa chip cards," said Iain Jamieson, Visa Country Manager for the Philippines and Guam.
BDO, the largest bank in the Philippines, sees this as an opportunity to provide secure and convenient services to their cardholders.
"With the new Visa payWave technology, cardholders can enjoy more convenient shopping and dining experiences whenever they use their BDO Visa Credit Cards," according to Mr. Rolando Tanchanco, BDO Executive Vice President and Consumer Lending Group Head.
Visa payWave technology allows cardholders to simply wave their cards in front of Visa payWave readers to pay for their transactions. Low value purchases will no longer require the cardholder's signature. For larger payments, the card can still be waved and the cardholder will be required to sign.
Aside from the added security of their cards not leaving their hands, Visa payWave cardholders will also enjoy faster transactions, substantially reducing queuing times for both cardholders and retailers.
BDO Visa payWave cardholders can use their cards at their favorite food establishments including selected outlets of Red Ribbon, Sbarro, Army Navy, Bon Chon, Jamba Juice, Kenny Rogers, Krispy Kreme, J.Co Donuts, El Pollo Loco, and Seattle's Best Coffee and many more. Visa payWave is accepted at any Visa merchants bearing the Visa payWave symbol

.
"As we continue to drive greater acceptance of Visa payWave in the country, cardholders can expect to see more establishments, where time is of the essence, offer the technology as a payment option. These include food courts, fast food restaurants, grocery stores, and convenience stores," concluded Jamieson.
About Visa
Visa is a global payments technology company that connects consumers, businesses, financial institutions, and governments in more than 200 countries and territories to fast, secure and reliable electronic payments. We operate one of the world's most advanced processing networks — VisaNet — that is capable of handling more than 47,000 transaction messages a second, with fraud protection for consumers and assured payment for merchants. Visa is not a bank and does not issue cards, extend credit or set rates and fees for consumers. Visa's innovations, however, enable its financial institution customers to offer consumers more choices: pay now with debit, ahead of time with prepaid or later with credit products. For more information, visit corporate.visa.com
About BDO
BDO is a full-service universal bank which provides a wide range of corporate, commercial and retail banking services. These services include traditional loan and deposit products, as well as treasury, trust banking, investment banking, private banking, cash management, leasing and finance, remittance, insurance, retail cash cards and credit card services.
BDO has one of the largest distribution networks, with more than 800 operating branches and over 2,200 ATMs nationwide. It also has a branch in Hong Kong as well as 13 overseas remittance and representative offices in Asia, Europe, North America and the Middle East.
In the credit card industry, BDO issues the most brands in the country namely MasterCard, Visa, American Express, JCB and UnionPay, as well as corporate and tie-up cards with different companies. The bank likewise dominates the credit card merchant acquiring business in the Philippines with BDO POS terminals being the only terminals in the industry to accept the five credit card brands and BancNet, MegaLink, Expressnet cards as well. For more information, visit www.bdo.com.ph.