BDO and Visa award Grand Winners of BDO Exciting Getaways Promo
10/07/2014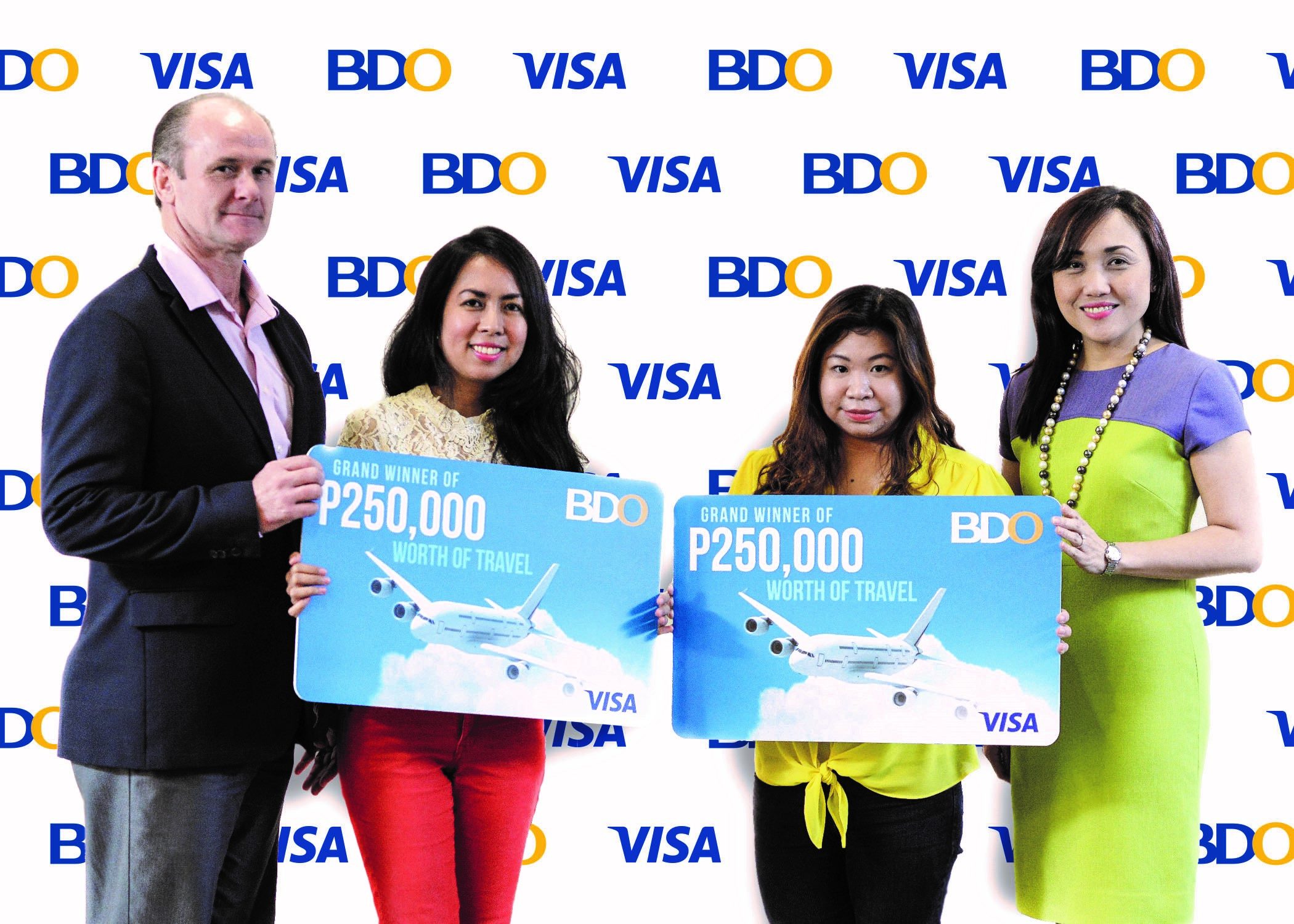 In the photo are: Visa Country Manager for the Philippines and Guam Mr. Stuart Tomlinson, BDO Visa Exciting Getaways Promo winners Katrina Sales and Rosebeth So, and BDO Senior Vice President and Consumer Lending Group Marketing Head Ma. Nannette R. Regala.
Two lucky BDO Visa Platinum cardholders each received a Cebu Pacific travel voucher valued at PHP 250,000 after winning the BDO Visa Exciting Getaways Promo.
Selected among thousands of BDO Visa cardholders who joined the raffle, winners Rose Beth So and Katrina Sales were awarded the travel vouchers after using their BDO Visa Platinum credit cards to pay for their transactions.
They can use their travel vouchers for any Cebu Pacific flights.
Additional vouchers were awarded to six second prize winners (PHP 25,000) and 20 consolation prize winners (PHP 10,000) during the grand draw. 115 winners also received vouchers worth PHP 10,000 in daily draws since the start of the promo.
About Visa
Visa is a global payments technology company that connects consumers, businesses, financial institutions, and governments in more than 200 countries and territories to fast, secure and reliable electronic payments. We operate one of the world's most advanced processing networks — VisaNet — that is capable of handling more than 47,000 transaction messages a second, with fraud protection for consumers and assured payment for merchants. Visa is not a bank and does not issue cards, extend credit or set rates and fees for consumers. Visa's innovations, however, enable its financial institution customers to offer consumers more choices: pay now with debit, ahead of time with prepaid or later with credit products. For more information, visit corporate.visa.com